Upcoming Tuesday April 23:
Register at the front desk or by email familyfitness@gvtc.com Or CLICK HERE to sign up online!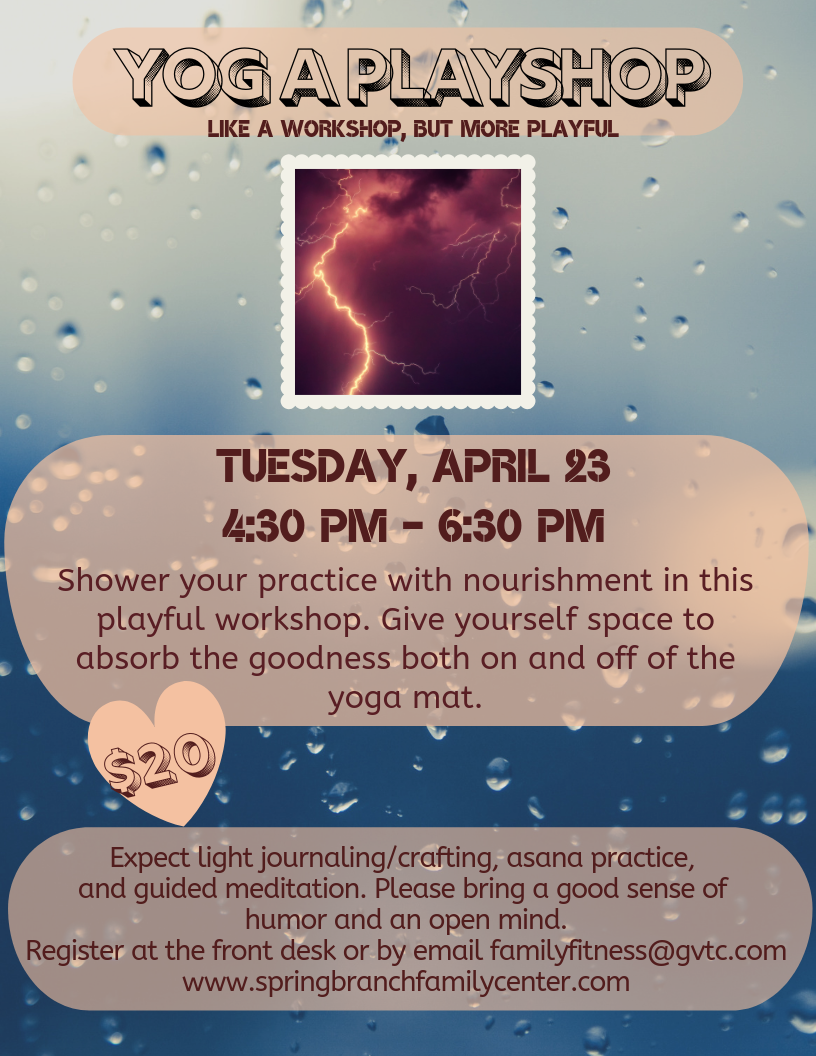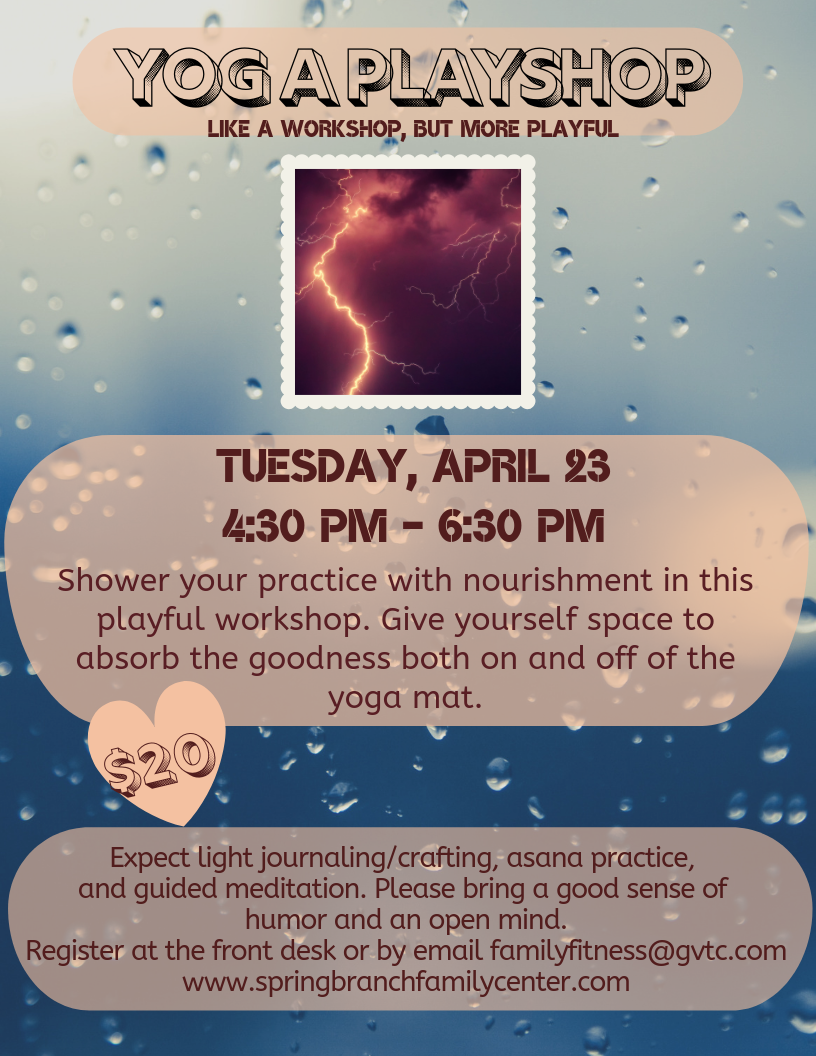 From March: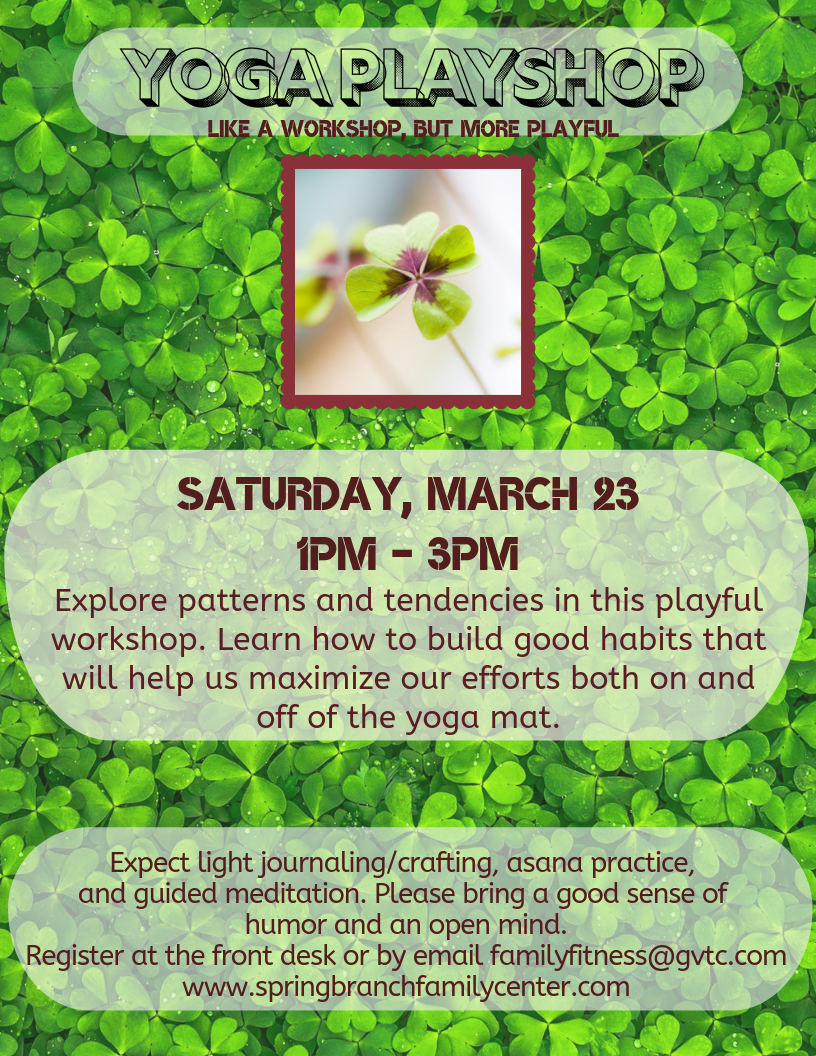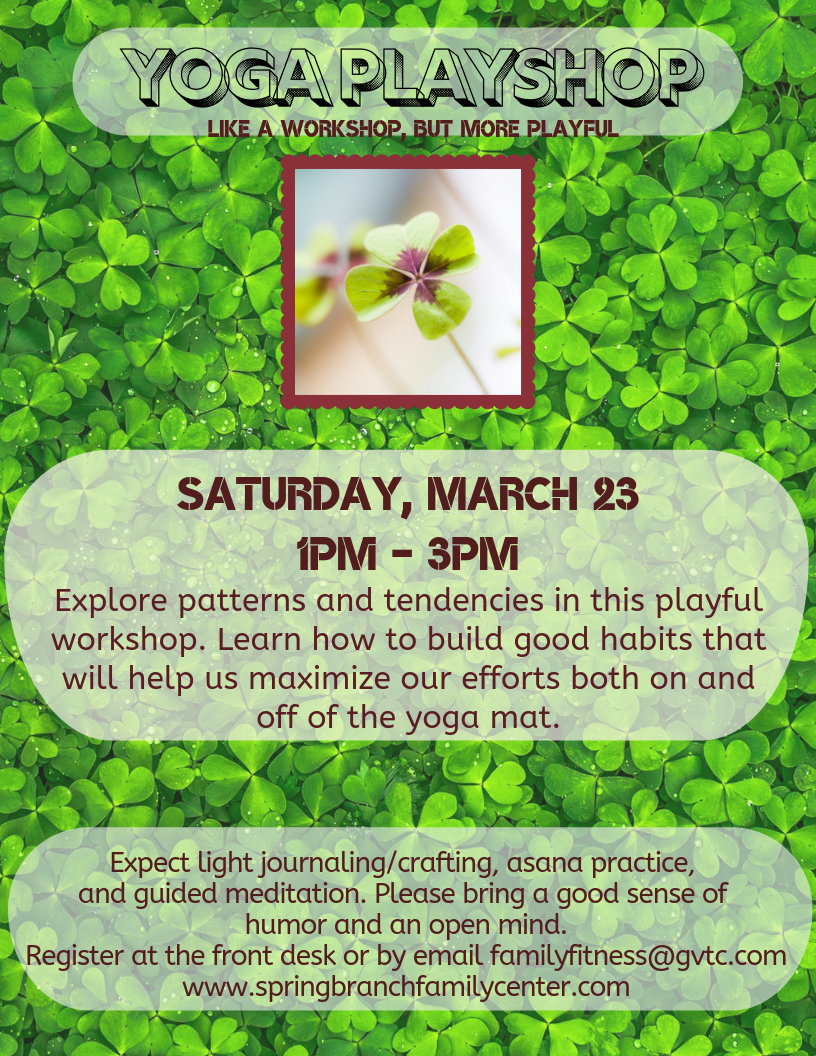 February 9, 2019:
Embrace your foundation in order to prepare for expansion. Our theme will revolve around self love and playfulness. Learn to support your practice with compassion as we create a hearty balance of heat and restoration. Expect light journaling/crafting, asana practice, and guided meditation. Please bring a good sense of humor and an open mind.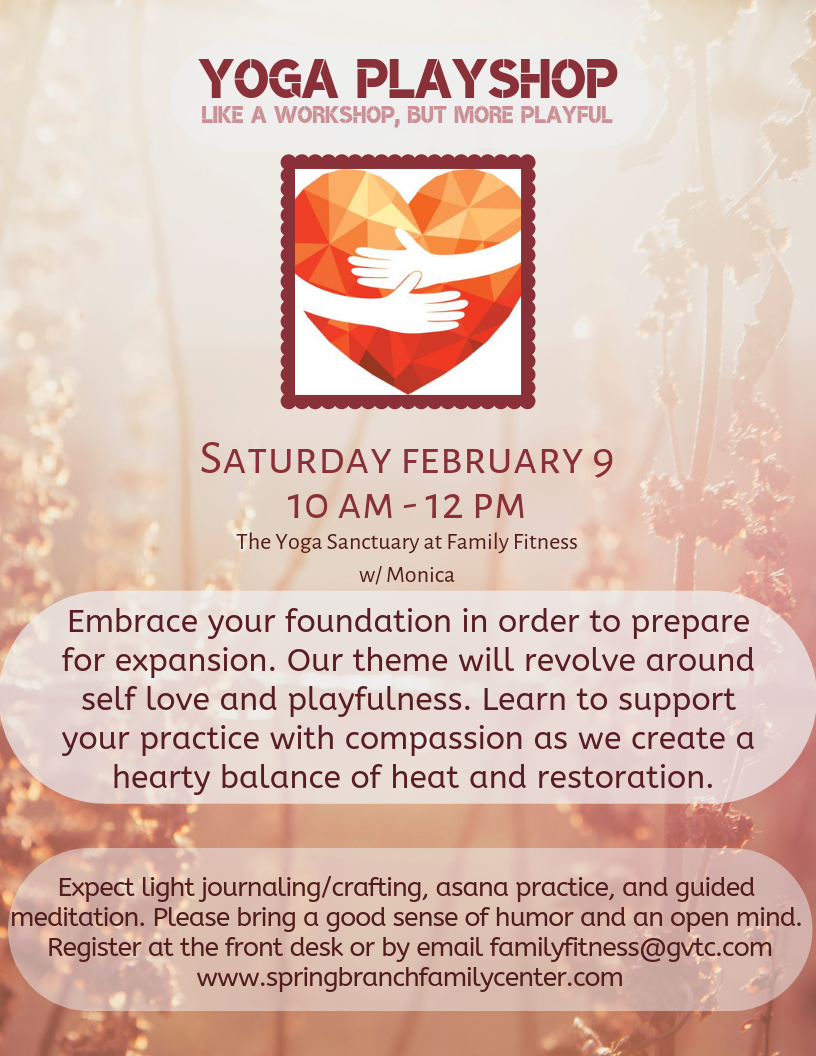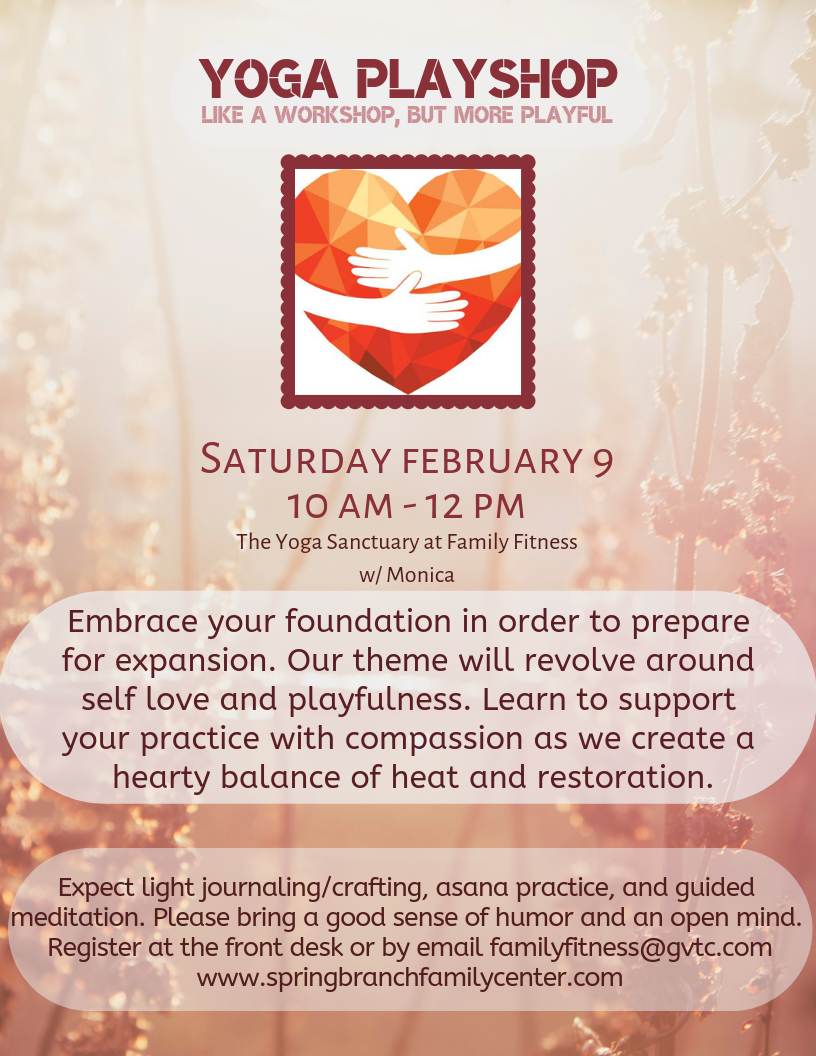 Upcoming January 5, 2019:
It's not too late to sample this workshop in an online format thru Monica's website, click here to check it out!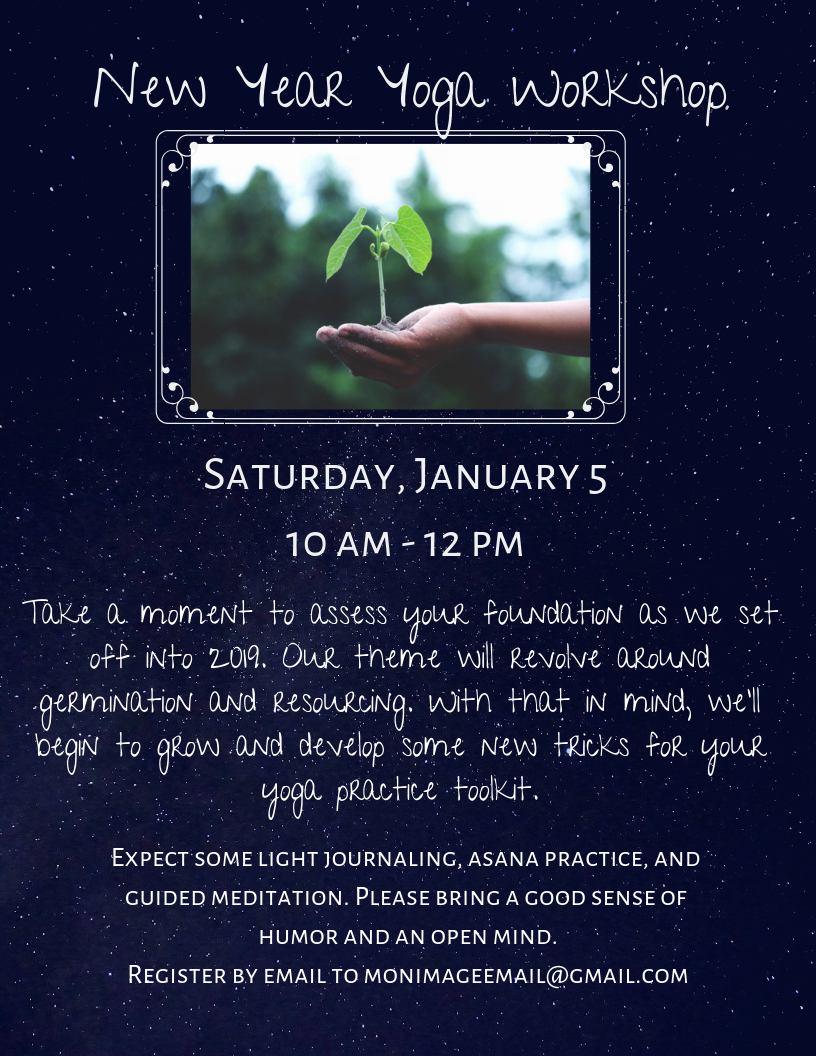 Upcoming Saturday, November 10, 2018: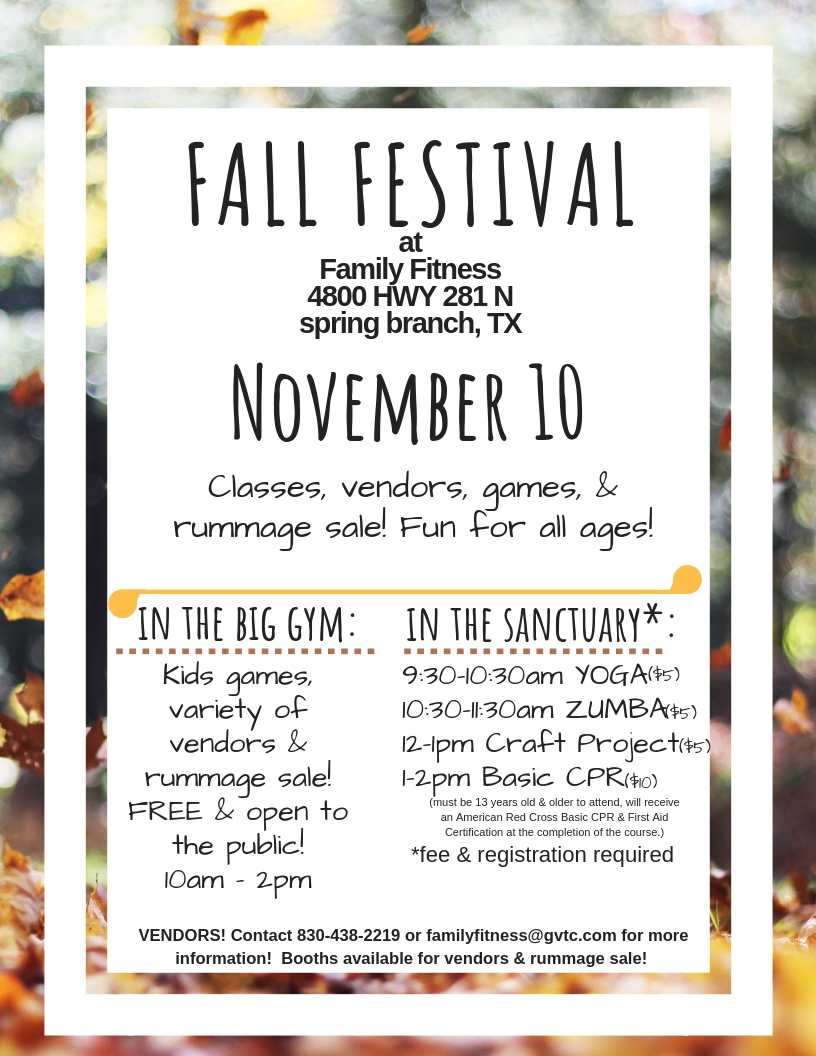 Are you interested in having a booth? Business or Rummage, we have space for you! Call 830-438-2219 for more information.
__________________________________________________________________________________________________________________
A Day of Workshops (A one of a kind, fun-based learning experience)
Join us for a monthly, themed, donation-based event where interested folks can learn from uniquely talented individuals who want to share their passions with you.
We have made this event to create a positive environment for discovering neat things with clever people. Let us gather and share what we love about the lives we live, and discover a new passion along the way. Open to anyone who wants to take time for themselves and cultivate useful skills in a communal learning space.
Participate in one or all of the classes offered. Donations are encouraged to help support the continuation of this monthly event.
Saturday March 31: "Spring into Action"
Schedule:
9:00 am – 9:45 am Exploring Movement Meditation by Tom Devins
10:00 am – 11:20 am Introduction: ABC's of Meditation w/Elaine
-what is it?
-"how-to" steps
-mudra & chant
11:30 am – 12:30 pm Mindful Meal w/Patty
12:45 pm – 1:30 pm Walking Meditation
2:00 pm – 2:45 pm Yoga Nidra w/Monica
-candle gazing
-guided savasana
Saturday Feb 3: "Love Thyself"
Schedule: Scroll Down for More Information about each offering!
Tai Chi: Basics (9 am – 10:15 am)
Gentle Vinyasa Flow Yoga (10:30 am – 11:45 am)
Seasonal Snack Chat (Noon – 12:30 pm)
Ayurveda 101 (12:45 pm – 2:45 pm)
Handmade with Love: Card-making Tutorial (3 pm – 4 pm)
MORE DETAILS:
Plan to attend? Sign up at the front desk so our instructors will know to expect you!
Tai Chi: Basics
9 am – 10:15 am
Led by Connie
This practice can help your balance, increase flexibility, help prevent falls, and strengthen legs and core. Come and learn about the art of tai chi–what is it, where does it come from, and why it is of benefit. Expect demonstrations, gentle warm up moves, a Qigong cool down, and time for Q & A.
Gentle Vinyasa Flow Yoga
10:30 am – 11:45 am
Led by Marisa Bible
Enjoy a slow and steady flow incorporating props for more ease and better alignment in postures. Move with your breath and find that even thru relaxation, there can be action. Leave feeling refreshed and open.
Seasonal Snack Chat
Noon – 12:30 pm
With Elaine Rakosky
Let Elaine tantalize your taste buds with her deliciously seasonal creations! Sample an Immunity Booster "shot", a hearty-warming soup, and something special for your sweet tooth. Then you can take her ideas home with you on provided recipe cards!
Ayurveda 101
12:45 pm – 2:45 pm
Led by Natalie Hain
Ayurveda, the sister science of yoga, literally translates to the science, or wisdom, of life. Ayurveda (pronounced "I-yur-vay-duh), is a simple, but not simplistic, life path. It incorporates the yogic philosophies and principles as well as diet and nutrition. Through simple daily practices you can create a life that is tailored to your unique needs. Ayurveda, like yoga and meditation, is another tool to add to your box to empower yourself into a greater feeling of health and wellness.
In this 2 hour workshop we will discuss the 3 body constitutions, or dosha's, according to Ayurveda, seasonal practices and foods to keep you in balance during the cold, dry winters and the hot Texas summers.
This class will be mostly lecture with a short yoga practice and meditation at the end.
Handmade with Love: Card-making Tutorial
3 pm – 4 pm
Led by Monica
Let's use our hands and hearts to create a one of a kind greeting for a loved one. In this laid back tutorial, Monica will walk you thru some of her best tricks for making a card that won't get thrown out in the trash. Materials will be provided but feel free to bring supplies if you have something that inspires you!
Saturday Nov 18: "Thanks & Giving"
Schedule:
Silent Meditation (9-945am)
Self Defense Training w/ Jeff Bonugli & Robert (10am – 1pm)** Limit 20 students
Terrarium Building Playshop (130 – 245pm)
No-Sew T-shirt Transformation Tutorial (3 – 415 pm)
Move/Reflect/Create: Garden of Gratitude (430 – 6pm)
MORE DETAILS:
Plan to attend? Sign up at the front desk so our instructors will know to expect you!
Silent Seated Meditation 9 – 9:45 am
facilitated by Monica
Join us in a silent first hour of the day while we sit collectively and tune in to the present moment. Prepare to be quiet upon entering the Sanctuary, simply smiling at others as you settle your seat. May the silence of your body and mind help you focus and become more aware of your other senses, your breath, and the vast space to explore within you. Feel free to trickle into the room anytime during the hour.
Self Defense Training 10 – 1 pm**
With Martial Arts Hall of Fame and 2x World Masters gold medalist Jeff Bonugli & Robert Bouse with Stand Alone Fighting
This intensive training course offers you practical skills and tools to help you feel stronger and protect yourself from looking like easy prey. You'll get some practice applying what you've learned thru simulated experiences. Prepare to unleash your inner survivor!
**This class is limited to 20 students—sign up today!!
Terrarium Building Playshop 1:30 – 2:45 pm
Lead by Rachel Figgs
Come get your hands dirty with the meaningful and meditative practice of building your own personal terrarium. Terrariums are usually constructed from glass containers adapted to hold soil and living plants. They can be either open faced or completely sealed. In this playshop you will be given everything you need to create your own micro-ecosystem, as well as information on how to keep it healthy for years to come. No need to bring a thing except an open mind and a creative spirit. However, if you have an old vase or empty glass candle jar lying around the house and you're in the mood to up-cycle, feel free to bring it along!
No-Sew T-Shirt Transformation Tutorial 3 – 4:15 pm
Lead by Rosie Garza
Most of us have Tshirts we never wear that crowd our closets and drawers. Now is your chance for an expert crafter to walk you thru the process of re-fashioning those old shirts into new and improved tops that bring you joy when you wear them! Bring an old Tshirt (or buy one from Family Fitness!), a pair of sharp scissors, and a fun attitude ready to transform old to new!
Move/Reflect/Create: Garden of Gratitude 4:30 – 6 pm
Co-Lead by Elaine and Monica
Enjoy flowing thru a series of activities designed to cultivate feelings of abundance and gratitude as we enter this holiday season. Expect some gentle movement, guided imagery meditation, and a simple craft project themed to thread it all together. No experience necessary.
Saturday Oct 14: "Avoid Tricks & Make Treats"
in the Yoga Sanctuary at Family Fitness
October is the beginning of the holiday season where things can get a little crazy, so take a break and participate in one or all of the classes offered. Donations are encouraged to help support the continuation of this monthly events.
Oct 14 Schedule:
8-845 am Silent Seated Meditation
9-950 am Yoga with a KICK
10-1145 am Self Defense Basics with Jeff Bonugli
12-1245 pm Seasonal Snacks How To
1-215 pm Journal Making Tutorial
230-345 pm Let's Talk about Stress
4-445 pm Yoga Nidra
5-6 pm Wine Tasting for a Cause: Benefiting Port Aransas
Click Here for the full flyer!