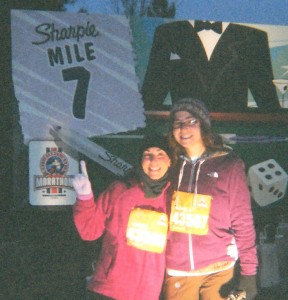 by Monica Bonugli
I have never considered myself to be much of a runner. In elementary school, my most dreaded day was when we had to run the mile in PE for the physical fitness test. It took me a good 15 minutes to finish one mile, holding my side cramp and complaining the whole time. With this sort of history, the last thing I expected to get into was running.
Flash forward 15 years later and somehow I'm thinking it's FUN to run 3 miles a day! This new-found addiction gave me such a rush that it made me want to do crazy things, things I thought could be even more FUN….but what could be more fun than running 3 miles a day, you ask? To you I will say 4 words: Disney World Half Marathon.
It all started one day when I was looking through a running magazine (I told you I was doing crazy things), and I saw this beautiful picture of Cinderella's castle with runners stampeding through the entry way. I called my Mom (you may know her as Sarah) to tell her about this amazing thing that happens once a year at Disney: the Marathon Weekend. Most of you probably know my mom as a fitness aficionado, and so don't find it hard to believe that she was completely game for participating in this awesome event. After convincing Dad (aka Jeff) that this would be a great Mother-Daughter bonding experience, training for our first "RunnyMoon" began.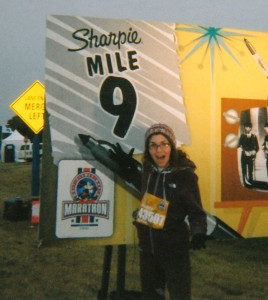 8 months later, it is almost time to pack. We decide to check the weather to find out if we should wear tanks or tshirts to run in typical sunny Florida. We were shocked to find that Florida was to be experiencing record low temperatures January 8-10, with the 9th being the coldest (low 26, high 38). Of course our race was on the 9th! So instead of shorts and tanks, we packed layers. And more layers.
The race was scheduled to begin at 5:30 AM on Saturday. In order to accomodate all 15,000 participants, we had to be checked in by 4 AM. As our alarm went off at 3 AM, Mom and I reluctantly attempted to begin our "morning routine." Coffee and bananas didn't have the same appeal (ha ha, a peel!) in the middle of the night as they usually do.
I slowly layered my 16 articles of clothing, and began to doubt this great idea of mine. As we walk out of our hotel room, leaving behind any shred of possibility that we would opt out of this insanely hypothermic situation, it is evident that we have indeed gone crazy.
We saw a lot of interesting things while we waited for our wave to start: people wearing shorts, trash bags, and costumes, a techno dance party, characters, and best (worst?) of all, SNOW. Yes, that's right. Snow in Florida. I can confirm that there were indeed snowflake flurries on my outer-most jacket. At this point, there wasn't much we could do but laugh. Frozen tears didn't seem like a good idea.
Even with all forces working against us, our morale was high as we started the 13.1 mile adventure. The snow turned to ice within the first mile, pelting us in the face like little pins and needles. Around mile 5, the sun was just barely lighting up the sky as we entered the Magic Kingdom.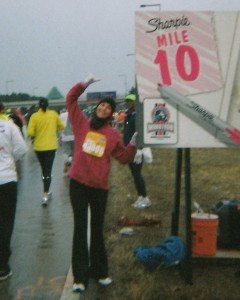 I flashed back to 8 months ago when I saw that picture of the castle and my spirits lifted as I realized that was about to be ME. Running through Cinderella's castle was one of the most magical moments of my life. However, this magic quickly faded away as the sun converted the ice to rain. With our sweat soaking us from the inside out and the rain soaking us from the outside in, it is needless to say that we were SOAKED and FROZEN for the last 7 miles.
Even though Mom's feet were numb by mile 4, she was able to run mostly the whole way. The only times she stopped was when I made her, and even kept up a slow jog as I switched to fast walking the last 3 miles. She is so awesome, and could have totally smoked me if she wanted to. But she stuck by me until the end, and we crossed the finish line arms linked and smiling.
They awarded us golden medals for finishing and tried to give us snacks, but we were literally too numb to hold anything. After hobbling back to our hotel room, we spent the first 30 minutes huddled over our heater trying to peel off the layers of soaked clothing. One good nap, hot showers, and a change of clothes later, we were back up and ready to conquer the Animal Kingdom. With all things considered, we had an incredibly memorable experience. One thing is for sure: We may not have run the whole way, but our noses sure did!